Download Allsubmitter
Click here to download the free demo version - AllSubmitter.
These are only a few out of a huge list of features that All submitter offers you. For a detailed understanding of its features and working, please visit AllSubmitter
Download Allsubmitter - SEO Software
AllSubmitter V7.7.4 NEW! (Changes List)
Allsubmitter is an all in one search engine optimization tool that offers you an extensive range of services. Right from researching your keywords to rewriting content and submitting them to article directories, Allsubmitter does everything in minutes. This is a one stop shop for all your website optimization needs.
Download Demo version: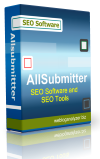 - Limitation of the demo version of 20 characters in the description field
- There is no automatic submission
- No more than three jobs in the Analyzer positions
- Each module of the program has limitations


How Does AllSubmitter As A Whole, Achieve Top SEO Rankings For You?
With a combine and effective professional SEO software solution, AllSubmitter, all in all, is one of its kinds of SEO promotion software. It covers all the three aspects of search engine optimisation- "OPTIMIZE, PROMOTE, & ANALYZE". And it does all this through:
- Helping you find your niche
- Promote your site by conducting on page & off page submissions
- Analyze your website and traffic completely
- Maintain your website by thorough analysis
- Grab all these features and more to improve SEO rankings in the best possible price.