Download Allsubmitter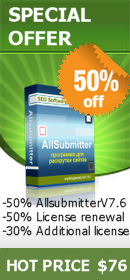 ---
Click here to download the free demo version - AllSubmitter.
These are only a few out of a huge list of features that All submitter offers you. For a detailed understanding of its features and working, please visit AllSubmitter
How to Order Software Allsubmitter

Thank you for your decision to purchase software from WebLogAnalyzer. Simply click on the appropriate links below to begin the secure order process.
Benefits
As a registered customer, you are entitled to:

Fully functional, unrestricted copy of the software.

Unlimited access to software updates for one year from the date of license purchase, with no limit on minor or major releases.

Unlimited free technical support by (helpdesk,e-mail) for one year.

30-Day Risk-Free Money-Back Guarantee

AllSubmitter
Allsubmitter is an all in one search engine optimization tool that offers you an extensive range of services. Right from researching your keywords to rewriting content and submitting them to article directories, Allsubmitter does everything in minutes. This is a one stop shop for all your website optimization needs.
AllSubmitter - Database Seo Friendly Directory list (2000 directories)