Information
Manual Directory Submission Service
We will manually submit your website to top, FREE, Non reciprocal And SEO Friendly web directories. We have team of experts who will submit your site to quality directories as per submission guidelines. We will provide you quality reports. Manual Directory Submission Service...
AllSubmitter - SEO Software. Directory and Classified Ad submission service!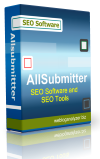 If you have been seeking expert help to improve your search engine rankings and keep your website on top, we have some world class products for you that will help you get there faster. We offer you two products, both of which have excellent reputation in the market.
Allsubmitter Tool:
Allsubmitter is an all in one search engine optimization tool that offers you an extensive range of services. Right from researching your keywords to rewriting content and submitting them to article directories, Allsubmitter does everything in minutes. This is a one stop shop for all your website optimization needs. Here are some of its salient features:

Research: Allsubmitter helps you research your keywords to get the best selection from your niche. It also performs a search count and researches your competitor's keywords to give you the best results.

Tracking: Allsubmitter checks the ratings and rankings of your website regularly so that you know where you stand at all times.

On Page Help: To change your Meta tags and text links, Allsubmitter provides you a detailed guide and on page help. This can also help you perform HTML optimization, even if you are not completely technically sound.

Validation: The source code of your website needs timely validation to make them free of any errors. Allsubmitter offers you HTML validation so that you can correct any coding errors. The validator helps you establish whether your website is completely devoid of any errors that would lower your rankings.

Competition Analysis: To make sure you remain one step ahead of your competition, Allsubmitter has a competition analysis tool.

File Submission: To maximize your ease, Allsubmitter helps you make directory submissions as well. You can submit content to directories automatically or semi automatically.

Back Links: In SEO, quality back links are very important to maintain a high ranking. Allsubmitter can help keep track of the number and quality of back links you are receiving on your website.

Bulk Mails: You can also send bulk mails through Allsubmitter by letting them pass through the spam filter.

Plagiarism Check: All your content goes through our automated plagiarism check tool which matches the content with other content found on the internet to make sure that it is not coped from anywhere.

Rewriting: You can use Allsubmitter tool to avoid plagiarism and generate fresh content for your website every time you wish to change your website's content.
For more information on AllSubmitter tool, click here.
Manual Directory Submission Service and Classified Ad submission service
Manual directory submission help you submit your content to handpicked high quality directories and Classified ad sites. All your submissions are submitted to high quality directories and Classified ad sites by a team of well trained link builders. Here's what our product offers you:

Access to trained link builders who can submit your content to targeted directories.

Your website gets high quality one way links which are near permanent. Your submissions are also spread out steadily, at no extra cost to you and your website keeps gaining rankings steadily.

You get additional targeted traffic your way through these targeted link building and directory submission tools.

The tool helps you generate thousands of different variations of your titles, tags and descriptions. This makes your search engine acceptability much higher.

You also get detailed reports on the submissions. Since there are no blind submissions, the quality is always excellent.

Manual Classified Submission Service.
For more information on Manual Directory Submission Service, click here.